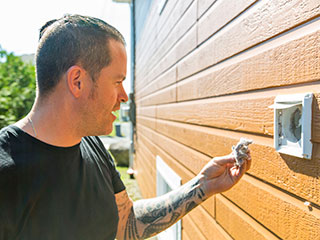 Contemporary homes in California are full of appliances, which are considered necessary to modern families. What family doesn't have a stove or a dryer? In fact, cooking for friends or colleagues can become a pleasant engagement until the smells from the cooked food make the atmosphere stuffy. The dryer, on the other hand, can make their lives easier because it will reduce the time needed for housework, but it will bring them trouble without the proper dryer duct cleaning.
Residential Air Duct Repair & Cleaning Services
Our air duct cleaning specialists provide HVAC and dryer vent cleaning services. Our professionals are equipped to remove every shred of dirt accumulated in the ducts. We own powerful vacuums in order to clean the ducts without contaminating your house. We manage to clean indoor air and remove bacteria from your environment by cleaning well the air ducts. We work with experienced cleaners, who will also clean the HVAC unit so that the air entering the house from the system won't pollute the atmosphere. Our experts also clean kitchen exhaust hoods and the entire ventilating system. We have specialized technicians for air duct repair in case they need sealing or coating and guarantee punctuality and clean work.
Clean Dryer Ducts Means Saftey For Your Family
You may consider cleaning a dryer vent a trivial service, but it's not. In fact, it is very important because it will contribute to the good environment of your working place or home, help you reduce the amounts you pay for energy consumption and ensure the safety of your family. The frequency of usage will result to the accumulation of dirt and lint that will eventually limit the space inside the air ducts. In other words, the appliance will suffocate and the hot air will be entrapped inside the ducts with a great possibility of setting the appliance on fire.
Don't Underestimate Less Energy Consumption
Dryer vents cleaning can guarantee that there will no trace of lint left and air will enter the appliance without finding obstacles in order to dry the clothes and then turn back and escape through the vents. This will mean that the clothes will dry properly and the appliance won't have to work overtime spending a considerable amount of energy. These sizes are actually quiet enlarged in businesses like dry cleaners or hotels that they use many appliances, which must be in great condition in order to deliver fresh clothes that smell good.
Skilled Techs For Air Duct & Vents Sanitization
Any variations to the humidity levels in the laundry room or the way the dryer works should alert you and you must notify Air Duct Cleaning Alameda right away. Our professionals are equipped and trained to deal with such problems and they will not only sanitize the vents and air ducts, but they will also check their condition and even proceed with dryer vent replacement. Aged parts, vents and air ducts that are damaged will only result to energy loss and huge bills.
Our company wants to make sure that your family lives in a safe environment and your business is not compromised by such matters. If you like cooking for your family and friends often, you must not forget that dryer vent kitchen exhaust hood cleaning is essential for the proper escape of steam and food smells. You don't want to create a stuffy environment; you want to live and breathe in a healthy atmosphere and be able to take advantage of the appliances that can make your life easier and more beautiful.